Many people have this idea of Singapore as a modern city filled with skyscrapers and state-of-the-art facilities. While it's true that Singapore has its eyes set on the future, it also has not forgotten its past. And if you know where to look, you'll see well-preserved reminders of its colourful history and rich culture.
One of the places that will take you back to Singapore's glorious past is Katong and the neighbouring town of Joo Chiat. These places are steeped in Peranakan culture. The word Peranakan means "local born" in Malay.
Also known as Straits Chinese, Peranakans emerged when Southern Chinese businessmen began marrying local women between the 15th and 17th centuries. Culturally, Peranakans are distinct from the Chinese and the indigenous Malay people, with their own language (Baba Malay) and cuisine.
In the 20th Century, Peranakans and Eurasians started to move into Katong. At the same time, Catholic churches and schools were being established in the area. Over time, the town became a Peranakan enclave.
Today, Katong is a lifestyle district that masterfully balances the old and the new. It's a place where pre-war coffee shops and hip bars and restaurants exist in perfect coexistence. The marriage of traditional elements and modern themes has made Katong one of the most exciting places to visit in Singapore.
Katong is not a big place. You can easily explore the town in less than a day. But the number of interesting places in the area is enough to make first-timers feel overwhelmed.
That's where this guide comes in. Here, you'll see the things to do, food to eat, beverages to drink, and things to buy in Katong. This is by no means an extensive guide to the area. What you can see here is just a sample of the wonders you can find in Katong.
What to Do
Admire the Colourful Shophouses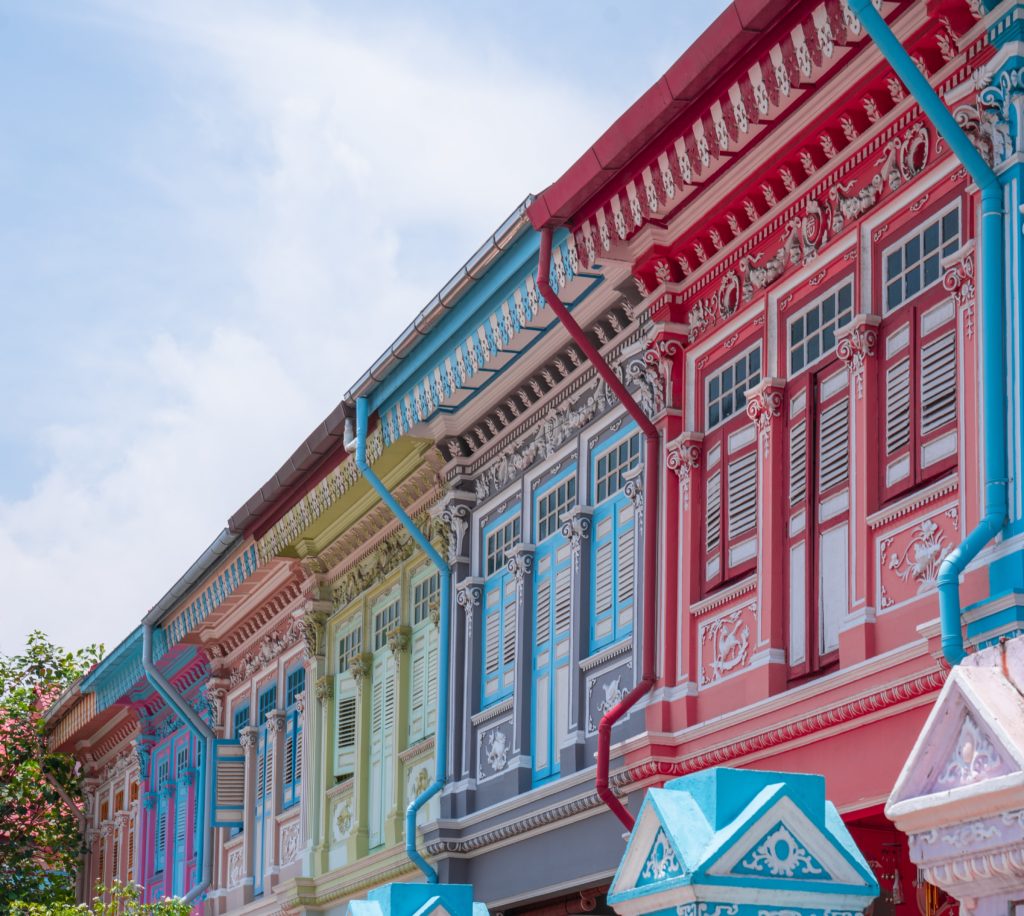 When you do an image search of Katong in Google, you'll see dozens of photos of colourful shophouses. These Instagrammable buildings have made Katong and Joo Chiat popular tourist destinations in Singapore.
But these shophouses are more than just eye candies. With their floral motifs, pastel hues, and geometrical tiles, these famous structures best represent what Peranakan culture is all about: colourful, lively, and unique.
These attractions are impossible to miss if you're in Katong. And yes, don't forget to take out your camera or phone to take photos of these shophouses. You can find the colourful shophouses along Koon Seng Road.
Visit the Past at Katong Antique House
If you want to learn about Peranakan culture, then a visit to the Katong Antique House should be part of your itinerary. Going inside the perfectly-preserved house is like stepping back in time.
Unlike other museums that simply hold artefacts and memorabilia, the Katong Antique House is itself a part of the collection. The house belongs to Mr Peter Wee, a fourth generation Peranakan and the great-grandson of philanthropist Tan Keong Saik.
After inheriting the house from his maternal grandfather in 1966, Mr Wee renovated the house and started to sell Peranakan-inspired goods. In 1979, he converted the house into a museum, becoming known as the Katong Antique House. Today, the museum is managed by Mr Eric Ang and Ms Angeline Kong.
So what can you see inside the Katong Antique House? Anything and everything that represents Peranakan history and culture. It has jewellery, costumes, furniture, photographs, pottery, and other items used by the Babas and the Bibiks of the past. Most of the items were from the personal collection of Mr Wee. The Katong Antique House is located at 208 East Coast Road.
Enjoy a Home-Cooked Meal at The Intan
When you book a two-hour tour at The Intan, you get to enjoy lunch or dinner featuring authentic home-cooked Nonya dishes. No less than the mother of the museum's owner, Alvin Yapp, prepared the food. If you only have time for a one-hour tour, then you can enjoy tea afterwards.
You'll indeed work up an appetite after touring the house filled with Peranakan furniture, trinkets, costumes, embroidery craft, and black-and-white photographs, all owned by Mr Yapp, who is of Peranakan descent. The Intan is located at 69 Joo Chiat Terrace.
Learn About the Eurasian Community of Singapore
Singapore has a sizable Eurasian community, and you can learn all about it at the Eurasian Heritage Gallery. The gallery gives visitors a glimpse of how the early generations of Eurasians in Singapore live through a display of traditional outfits and other presentations.
This gallery is the place to go if you want to know about prominent Eurasian personalities, cuisines, customs, and more. The Eurasian Heritage Gallery is located at 139 Ceylon Road.
Experience the Straits Golden Era
The early 1900s is known as the golden era of Peranakan culture. And the Straits Enclave is the best place to go if you want to relive this wonderful time in the past. The private museum is filled with priceless antiques and heirlooms collected for more than a century.
What's unique about this museum is that it allows you to touch and even try some of the exhibits. You can put on a traditional kebaya, for example, or play a game of Cherki. You also get a chance to interact with members of the Peranakan community and gain first-hand knowledge of their rich history and culture. The Straits Enclave is located at 318A Joo Chiat Road.
Take a Selfie at Rumah Bebe
It's hard not to notice Rumah Bebe with its cerulean exteriors and colourful Peranakan tiles. While it's perfectly okay to take a selfie outside the shop, taking pictures inside is prohibited.
Even if you can't take pictures inside, you should still come in and admire the shop's many offerings, including gift items, replicas of museum pieces, costumes, shoes, and more. It even offers Peranakan treats through Nonya Nosh, the in-house bakeshop. The place also hosts classes and tours. Rumah Bebe is located at 113 East Coast Road.
Burn Calories at Cycle Beats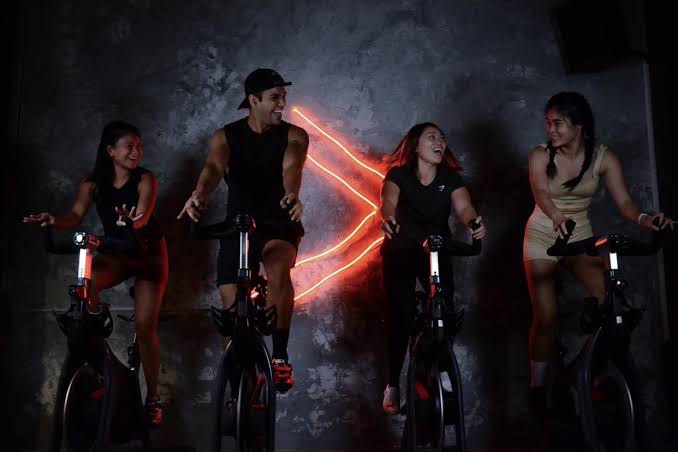 If you feel like you need to burn all the calories you've gained from eating delicious Nonya food, then head to Cycle Beats Studio by Active Fitness for a spinning session. Cycle Beats has 30 stationary bikes, making it the biggest indoor spin studio in all of Singapore.
This place is perfect for those bored of traditional gyms and fitness studios. What happens inside is more like a party than a workout session with the bright lights and the club music. To attend a spinning session at Cycle Beats, just look for the industrial-looking shophouse along Joo Chiat road.
Be a Kid Again at Carpmael Park
If your idea of burning calories is to play like a kid, then head to the Wallholla Playground at Carpmael Park. The place has 15 vertical playgrounds, and all are equipped with rock climbing walls, rope bridges, and fireman's poles. The playground is not too big and can only accommodate 30 kids. The Wallholla Playground is in Carpmael Park along Carpmael and Ceylon Roads.
Hunt for Street Art along East Coast Road
Keep your eyes peeled when you stroll along East Coast Road because the place is teeming with hip artwork. You can find them on the walls of shophouses and buildings.
Not to be missed is the masterpiece dubbed Medley Alley. You can find it between two shophouses at 107 East Coast Road. The artwork depicts change through colourful tiles arranged to form wings.
The biggest artwork in the area is Jousting Painters, which you can see along Everitt Road. The piece perfectly captures the colourful imagination of children.
Pamper Yourself at Feet Haven
Katong is best explored by foot. But all those walking will eventually take its toll on your feet. When your feet are starting to ache, just head to Feet Haven for some divine foot-pampering experience.
While your feet are being massaged, feast your eyes on the spa's beautiful interior that also has a relaxing effect. A 60-minute session will cost you $42, but it's worth every cent. Feet Haven is located at 136 East Coast Road.
Stay at a Peranakan-Inspired Hotel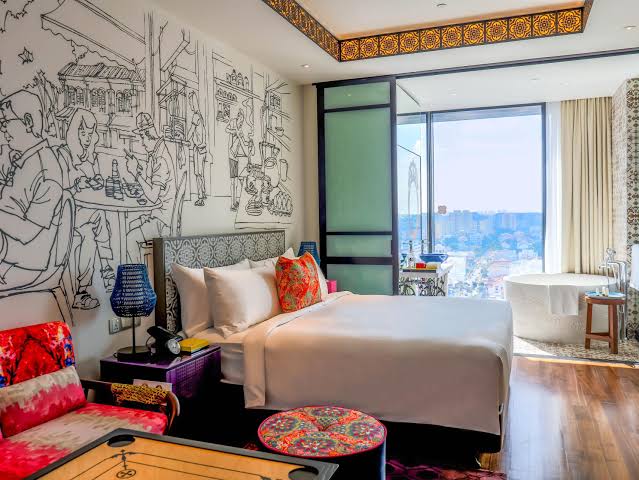 For a full experience of Katong, why don't you stay for a night or two at the Peranakan-inspired Hotel Indigo? The hotel's motif is unmistakably Peranakan with its colourful walls, tiled floor, vanity counters and display cases with sewing machine legs. You can even soak your feet in an enamel wash bin, just like what Peranakan women did back in the day.
Despite the old world charm, Hotel Indigo has plenty of modern amenities. There's a lap pool at the rooftop, a 24-hour gym, and a business centre/lounge. As you may have guessed, the in-house restaurant serves delicious Nyonya dishes. Hotel Indigo is located at 86 East Coast Road.
What to Eat
Gelato from Birds of Paradise
Summers in Singapore can be unforgiving. That's why gelato and ice cream shops are popular on the island. If you're in Katong, you can satisfy your gelato cravings at Birds of Paradise. Their gelatos are freshly made with natural flavours derived from plants, flowers, and herbs.
Their creations don't only look and taste good. They smell good too, thanks to the fresh herbs they use like thyme, basil, lemongrass, etc. Their shop has no seats and is always packed with people. Birds of Paradise is located at 63 East Coast Road.
Buns at Chee Mee Chin Confectionery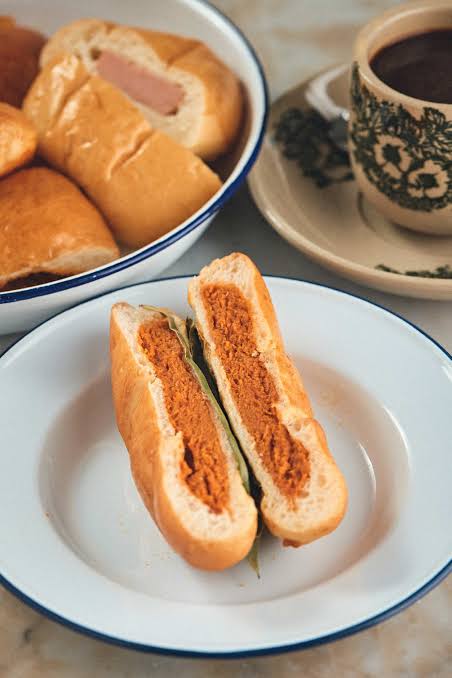 Locals love to eat buns for breakfast. They eat it plain or slather it with sweet kaya spread. The best place to try some buns in Katong is in Chin Mee Chin. The old-school bakeshop was recently renovated and is now headed by pastry chef Maxine Ngooi of the Ebb and Flow Group.
Like other places in Katong, Chee Min Chin is heavy on nostalgia with its vintage tiles and classic-looking dining tables and chairs. Buns here are toasted over a charcoal grill, a traditional method. Apart from buns, the bakeshop also sells cupcakes, cream horns, and chiffon cakes. Outside seating is available so you can have an alfresco breakfast or snack. Chee Mee Chin is located at 204 East Coast Road.
Nasi Lemak at Sinpopo Brand
If you have been to Singapore before, then you've probably eaten nasi lemak already. But have you ever tried one steamed in a muslin cloth, which is how the dish is prepared traditionally? Sinpopo Brand is a restaurant that insists on doing things the old way. They even make their coffee Nanyang-style using a kopi sock.
They also have traditional desserts such as pulut hitam, gula Melaka, and kueh sarlat cakes. Even the look of Sinpopo Brand is an ode to 80s-era Singapore with its grilled storefront rattan chairs and tiled floors. Sinpopo Brand is located at 458 Joo Chiat Road.
Laksa at 328 Katong Laksa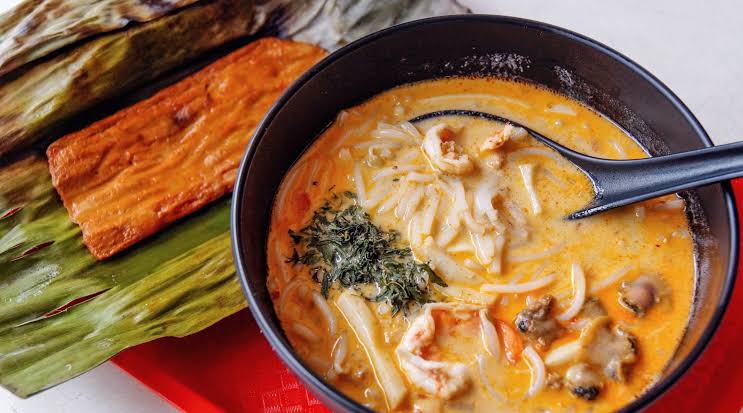 Just like Nasi Lemak, Laksa is another must-try dish in Singapore. 328 Katong Laksa's version is thick and coconut-y, just the way laksa should. The ingredients are also thinly sliced, so you can taste everything in one scoop. Don't forget to order a slice of otah or fish cake along with your laksa. 328 Katong Laksa is located at 51 East Coast Road.
Chilli Crab Tagliatelle at Baba Chews
Chili Crab Tagliatelle is a classic dish. Baba Chew's version with deep-fried soft shell crabs and sous vide egg updates the old recipe to suit the modern palate. Another must-try item on Baba Chews' menu is the chicken rendang lasagna. It's a spicy and creamy dish that masterfully combines eastern and western flavours. Only limited quantities of this dish are made daily. You can find Baba Chews in the old Joo Chiat Police Station, now considered a heritage building.
Mr. and Mrs. Mohgan's Super Crispy Roti Parata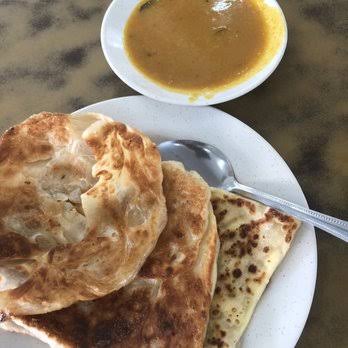 The name of this shop doesn't lie. They really do have roti parata or Prata kosongs that are super crispy on the outside but fluffy on the inside. This shop is only open during weekdays, and if you want to taste their roti parata, you need to come early because they get sold out quickly. Mr. and Mrs. Mohgan's Super Crispy Roti Parata is located at 300 Joo Chiat Road.
What to Drink in Katong?
Coffee at Homeground Coffee Roasters
If you love art and coffee, then Homeground Coffee Roasters is your type of place. This shop is both a cafe and an art gallery with artworks made from coffee. The shop also offers cakes and other sweets with their artisanal brews. This is an excellent place to go if you're tired of those giant coffee shop chains. Homeground Coffee Roasters is located at 475 Joo Chiat Road.
Organic Brewed Coffee at Brawns and Brains
Brawns and Brains is another refreshing alternative to the big coffee shops that you can find all over Singapore. The coffee here is made from organic single origin beans from Brazil. This cafe is cramped and a bit hard to find as it's tucked at a nook of an old badminton hall.
But when you do find it, you'll be rewarded with great-tasting coffee that's lovingly brewed by the owners themselves. Also worth trying is the homemade grapefruit yoghurt pound cake. Brawns and Brains is located at 100 Guillemard Road.
Latte or Cappuccino at Forty Hands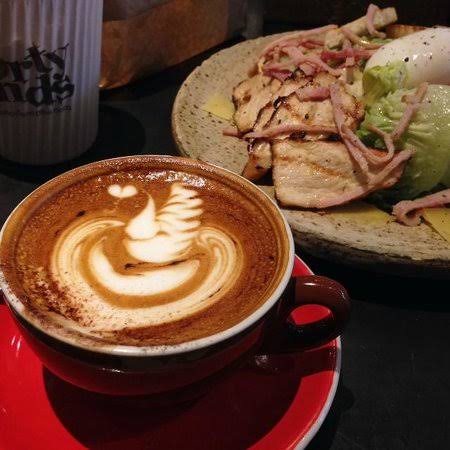 The folks who run Forty Hands are real coffee connoisseurs, so you are sure to get a quality brew in each cup. They only use freshly roasted beans for their creations. The cafe also serves all-day breakfast fares if you're hungry, including waffles, smashed avocado on toast, and prawn paste fried chicken.
If you have a big appetite, you should go for the famous big boy breakfast, which consists of beef or pork sausage, grilled tomatoes, crispy bacon, beef bolognese, grilled portobello mushroom, sauteed spinach, flatbread, and eggs. Forty Hands is located at 226 East Road.
Craft Beer at Blue Smoke
Formerly known as The 1925 Brewing Co, Blue Smoke is a pub that serves its own craft beers. You have four varieties to choose from: The Yellow Van, a pale ale, The Blk 6.22, a dark ale, Small Monster, an IPA, and The Manuka Stout, a honeyed stout.
The bar also serves other craft beers such as Hitachino Nest Pale Ale, Fourpure Pale Ale, and Fresh Squeezed IPA. For hungry drinkers, the pub offers Teochew dishes. Blue Smoke is located at 261 Joo Chiat Road.
International Beer at Alibabar the Hawker Bar
Foreigners who miss their brews back home can go to Alibabar The Hawker Bar. They have a wide selection of foreign beers, including premium brands like Belgian Trappistes Rochefort. This place is not just a bar. It's also a cafe that serves Kopitiam favourites such as prawn noodles and Hokkien mee, gourmet burgers, and Japanese food. Alibabar the Hawker Bar, is located at 125 East Coast Road.
Cool things to buy in Katong
Groceries from Little Farms
If you need to do some grocery shopping, head to Little Farms. The name can be deceiving because the place is anything but little. The shop occupies 6,000 square feet of space and is the largest branch of the gourmet grocery chain. Little Farms is the best place to go if you're looking for exotic and imported fruits and vegetables.
Their goods are sourced from producers and farmers from different parts of the world. Apart from the main shop, Little Farms also has a butchery, an all-day bistro, a coffee kiosk, and a full-service bar. Little Farms is located at 451 Joo Chiat Road.
A Bespoke Kebaya from Rumah Kim Choo
If you want to buy a bespoke kebaya for a special occasion or as a souvenir, then Rumah Kim Choo is the place for you to go. This place is more than just a souvenir shop, however. It's also an art gallery and an venue for various events such as beading workshops and kueh tasting sessions.
Rumah Kim Choo also offers a private tour of their boutique gallery and a heritage trail walking tour of Katong and Joo Chiat. Under the brand Choo Kueh Chang, the place sells pyramid-shaped rice dumplings wrapped in bamboo leaves and stuffed with either chilli prawn or chicken. Rumah Kim Choo is located at 111 East Coast Road.
Local Creations from Cat Socrates
Singapore has a lot of talented and creative designers, artists, writers, and entrepreneurs who are just waiting to be discovered. Fortunately for them, there's Cat Socrates to feature in their works. This shop is the place to go if you're looking for unique home decor, crafts, trinkets, paper paraphernalia, books, magazines, and even bike accessories.
There are no mass-produced imported goods here, only thoughtful creations from local brands. And if you're a cat lover, keep a lookout for Zoo-Zoo, the resident feline shopkeeper. Cat Socrates is located at 448 Joo Chiat Road.
Vinyl Records from Choice Cuts Goods + Coffee
Choice Cuts Goods + Coffee is heaven for music aficionados with its sizable vinyl records. The shop also sells accessories and merchandise from bands and musical artists.
And yes, as the name suggests, the place also offers speciality coffee and even craft beers that customers can enjoy while they're checking out the goods. Choice Cuts Goods + Coffee is founded by a DJ collective known as Matteblacc. The shop has recently moved to its new location at 446 Joo Chiat Road.
Beach Totes and Pouches from The AC Boutique
Hitting the beach soon? Complete your look with a hand-embroidered beach tote or pouch from Elyse and I, available at The AC Boutique. These lovely bags are adorned with tropical-inspired designs such as palm trees, watermelons, and pineapples.
Other stuff you can buy from The AC Boutique includes menswear from Hanway, jewellery from Elverd Designs, and artworks from Louise Hill Design. This shop is located at 420 Joo Chiat Road.
Vintage Items at Singapore Trading Post
Vintage lovers will go crazy at the sight of old furniture, memorabilia, and trinkets offered at the Singapore Trading Post. Most of the pieces are one-of-a-kind items from old trade routes dating back to the colonial era. Some of the noteworthy goodies you can find in this shop are grandfather clocks, statues, vintage keys, and old binoculars. The place also has a special spot for items representing old Singapore, such as Kickapoo ads and Sinalco trays. Singapore Trading Post is